Sweden's National Dish: Tacos?
Sweden has a tradition of curling up on a Friday night, eating and enjoying family time, called "fredagsmys". What may surprise you is that the most common favorite Swedish dish to have is...wait for it...tacos. Who would have thought, right? Its true! More Swedes eat tacos for "fredagsmys" than any other food.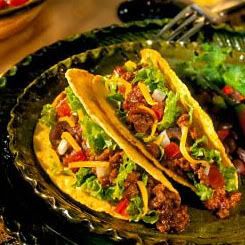 Swedish grocery stores have sections completely dedicated to this new tradition. So don't be surprised if you are invited to a Swedes house and they serve you tacos instead of some classic Swedish meatballs or or smörgåstorta (Swedish sandwich cake). I have been living in Sweden for almost 2 years and have still not yet had the pleasure of tasting this traditional Swedish party food.

I have to honestly say, though, its a bit of a disappointment to live in a European country, hoping to experience the traditions that I romanticized trying, only to end up getting the same stuff, I usually had back home. I mean really; I want some #traditionalswedishfood ! Isn't that what living abroad is all about, getting a taste of the culture.


Now, don't get me wrong I love tacos just as much as the next person. I am all for the movement on Facebook to get Taco bell here in Sweden, nothing like those cheap tacos. Then the Swedes may get bored and go back to #authentic Swedish food.


Well, anyway,when in Rome...tomorrow is Friday, so time to indulge in the new Swedish National dish and maybe get creative and show some of these Swedes something even better, enchiladas. I will continue to hope to be invited to one of those traditional Swedish fests, where they serve authentic Swedish cuisine, like meatballs and Swedish sandwich cake. Maybe one day.....I will get a real taste of the Swedish traditions and customs that I was hoping for....


What do you think??? Wouldn't you want to see a little of that old tradition when you travel abroad?